We have a winner for Challenge #3! Random.Org picked Lucky number 8!
True Random Number Generator
Min: 1
Max: 9
Result: 8
Powered by RANDOM.ORG
Congratulations Sherri!
Here is Sherri's winning project submission:
I just love this card! It is very inventive! To see how Sherri did it visit her blog! Sherri Email me with your addy so we can get your yummy prize out to you asap! Just as a reminder this is what you should be expecting in your crafty mail:
We hope you will share your project made with Your Kioshi papers and flowersoft!
Here is our "I am a Winner" BRAG blinkie to add to your blog!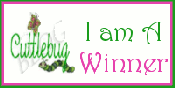 Stay tuned tomorrow for our #4 Challenge! And remember ALWAYS Scrap Crazy Everyone!