Its Drawing Day! That means we have a winner for Challenge #2! The Lucky Lady is:
4- Katie Tate
This is her cute card submission: adorable
Congratulations Katie! Email me with your addy and we'll get your package out ASAP!
Grab our WINNER brag blinkie for your blog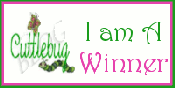 Stay tuned tommorrow for our new Challenge!