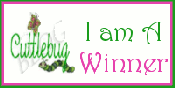 Thanx so much to all who cared enough to leave a comment! I wish I could send you ALL a gift!
But we have a WINNER!!!! Congratulations Maureen Reiss #6! I used Random.org to generate the lucky number! Thanx for being part of our first 100 Friends! Here is what you should be expecting in your Crafty Mail Maureen!
True Random Number Generator
Min: 1
Max: 22
Result:
6
Powered by RANDOM.ORG
Maureen Send me an email(under contact us) with your addy so we can get this sent out right away!
Well everyone that was so much fun I cannot wait until we hit the 200 friends mark! Maybe something fun will happen again! Scrap Crazy Everyday!